If you're interested in learning morris dance with Kingsessing
you should contact us

Joe Passante Bill Quern Jan Alter

| | | |
| --- | --- | --- |
| Schedule | | The team will be dancing at these events |
| | | |
| | | |
May Day on Belmont Plateau 2023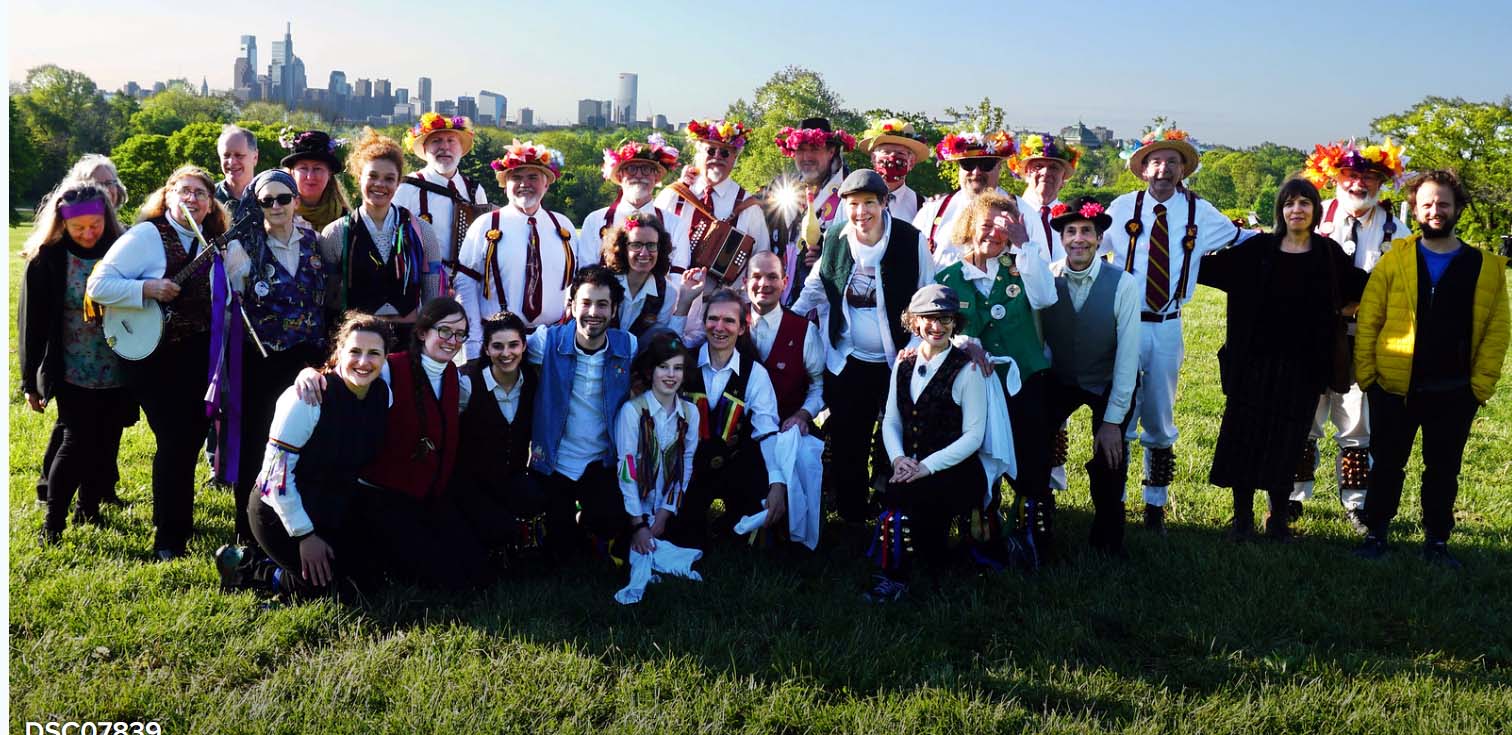 A beautiful morning for dancing, singing and being together to begin the first day of May
You can watch a 9 minute video of some of the dancing and singing by clicking
here
BRYN MAWR 'S MAY DAY
April 30, '23
Even with the rain the enjoyment of dancing to welcome a new season of spring overcame the wet weather.
It's clear that with the right fool and his chicken one can bring a laugh to lots of folks.
Renegade Morris and Kingsessing shared the morning to help Bryn Mawr celebrate their May Day Celebration
And with a little teaching from Curtis Hoberman a few hundred students were dancing morris as well.
Click here to see the Bryn Mawr May Day Celebration video.
here
YOU BET YOUR GARDEN 2023
Bethlehem, PA
April 14
Spring was on the airwaves with Mike McGrath both interviewing and having the K-men perform
for his weekly show You Bet Your Garden, which aired on channel 39 on April 29th, '23

If you click the word GARDEN and look for S4 Ep34 you can watch the broadcast.
TERHUNE ORCHARDS 2023
Jan 29, 2023

The team's pilgrimage toTerhune Orchards, in Princeton, NJ, to dance for the Wassailing of the apple trees has
become an annual event. Not only does it help for good apple crops it motivates the Eagles to win
their football games.
Watch Curtis Hoberman teach a morris dance to the crowd here at Terhune Orchards
Watch the morris men dance here at Terhune Orchards.
MUMMERS PARADE 2023
Since morris dancing is English in origin the K-men thought it appropriate to honor Queen Elizabeth II's
many years on the throne with both a tribute and a dance in her memory. The team marched and danced
on Broad Street to the enthusiastic applause of thousands. No kidding or exaggeration here.
Click here to watch
DANCING AT THE FIREBIRD FESTIVAL '22
Finding a spot with good lighting in Phoenixville can be somewhat problematic. However, the K-men settled
on a parking lot in the center of town which was already being used by Santa to meet with children.
Fortunately Santa was willing to share.
You can watch the dance here.
DICKENS FESTIVAL 2022
NARBERTH, PA
Dec. 4
Almost feels just like old times
Curtis teaching morris to everyone at the Dickens Festival
Morris Men Make History on
May Day
The records show that George Washington and Gilbert du Motier, Marquis de Lafayette had tea at the
Grange Estate in Havertown, PA. On May Day 2022 Kingsessing danced there as well.
Handsome Molly Dancers and Kingsessing Morris Men
Dancing at Terhune Orchards, in NJ, in the snow, to continue a long tradition of
'Wassailing the Apple Trees' in 24° weather
can be somewhat of a challenge. However, a couple of small bonfires, sugared doughnuts,
and hot cider makes it a little easier to overcome.
Monday Night Morris Practice '21
No, the team is not in line waiting for dinner. The men are dancing outside for safety
in the covid environment.
Adaptation and pragmatism are a key element to continued existence.
DANCING AT BRYN MAWR COLLEGE
IN THE SPRING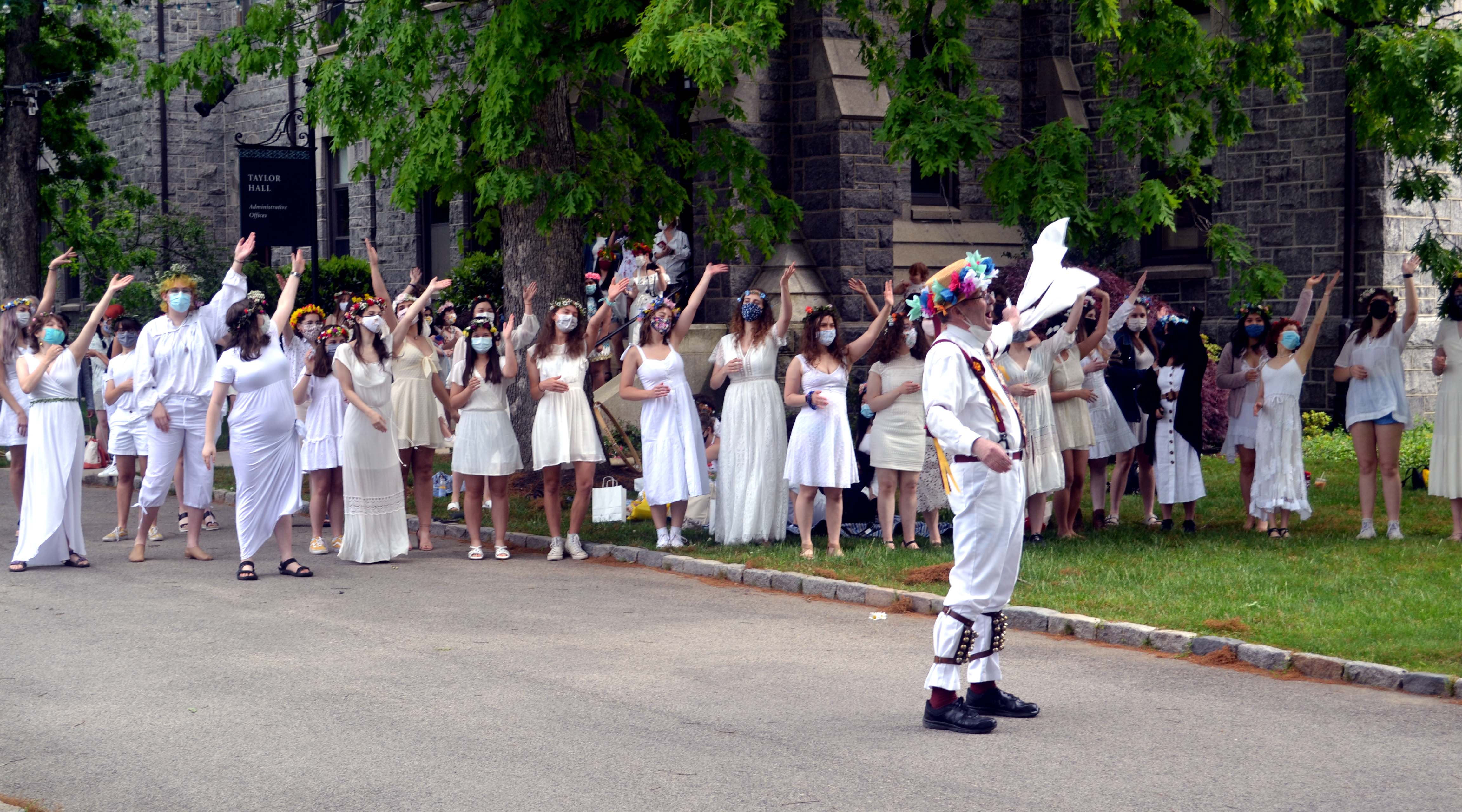 Ed Stivender captures the enthusiasm of the moment to teach a few hundred Bryn Mawr
students a morris dance. Along with Rik Bourne's and Bill
Quern's music everyone was on a cloud of enjoyment
You can watch the team dancing at Bryn Mawr by clicking
MAY DAY 2021
Dawning masks at dawn at Belmont Plateau, in Fairmount Park, to welcome the sun.

Some of the great treasures of Kingsessing are its musicians.
The quality and sensitivity of their playing continually energizes
the dancers to give their best.
1st Place WINNERS
in the 2020 MUMMERS DAY PARADE

Interestingly enough there are morris teams in England that wear flowered hats all the time.
Kingsessing won 1st place with their 1 minute dance out of 19 entries. You can watch them
dancing by clicking on the word
link
Lots of folks came out for the festival and Kingsessing put out for them with a nice variety of dances.
A zumba and modern dance group shared the trolley track stage with the K-men and made the event
that much more interesting and enjoyable to watch
DANCING AT THE FARM
after the deep freeze
Feb 2, 2019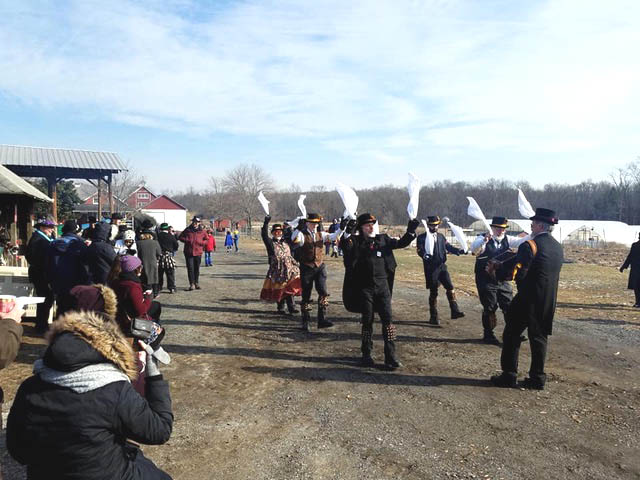 The K-men danced at Terhune Orchards, in Princeton, NJ,on Ground Hog Day, for the
farm's annual Wassailing to the Apple Trees event along with Handsome Molly, and
Green River Tap & Die, from New England. It was fine event and a nice opportunity to finally
enjoy the outdoors in moderate winter temperatures compared to the polar vortex ones
that had to be endured only a few days previously.
KINGSESSING WINS 3rd PLACE
at the
MUMMERS DAY PARADE 2019
Watch the team dancing in the Parade by
FIREBIRD FESTIVAL 2018
PHOENIXVILLE, PA
Dancing at the field where the Phoenix will be fired. This picture seems to show plenty of light
but it was actually half as bright giving the dancers a lot more thought to both carefully
clashing their sticks to each other and dancing.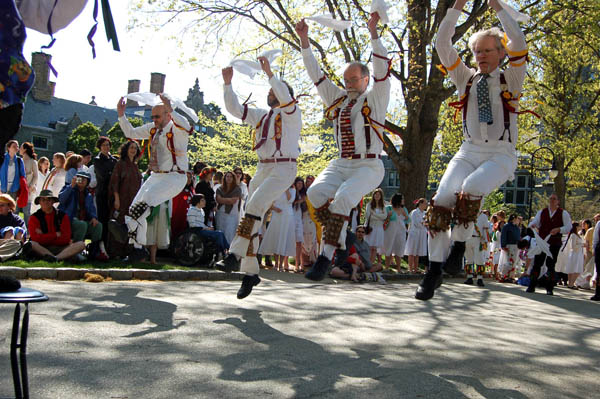 The Kingsessing Morris Men dancing at Bryn Mawr College's
May Day celebration about 15 years ago.
Listen to an Interview with Kingsessing, and Mike McGrath
just before May Day, about 15 years ago on
You Bet Your Garden
on WHYY radio
Mummers Day Parade 2016
The Kmen's thematic dance in 2016 paired the destruction of the worldly traveling Hitchbot when it
came to Philadelphia during the summer and the Pope's good will visit to the city later in early fall.
Both visits were intended as something positive to benefit humanity and that was something
Kingsessing wanted to celebrate a little more.
Click below for more
The team's first kit (uniform) sported knickers and suspenders. This was May Day
at Bryn Mawr College, as the team began their second year performing.